I was thinking I would jump back on the ban wagon this morning but now that it's here the thought of monitoring everything that goes into my mouth seems like a major chore.
One that I'm not sure I want to under take yet again. I haven't had breakfast yet so I haven't started the day off poorly ... I can still get my head into the game, right?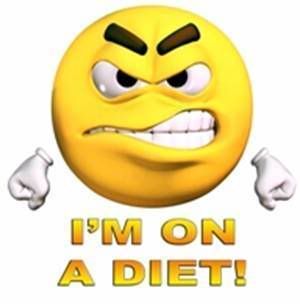 Why does saying your on a diet make you feel so crappy? Maybe I just won't use that word this time. I'm not on a diet ... I'm on a journey to be a healthier me. I'm not going to say I won't eat cake & ice cream cause I'm only human ... I love sweets! I can say I will eat them in moderation ... and refuse to over indulge in all the diet no-no foods. I can fill up on delicious fruits & veggies and save the deserts for special occasions. Sounds like a plan huh?!
I didn't weigh in this morning ... I just didn't think I could handle the number that the scale might show me. I know that I was 204 about a week ago ... that's what the Wii Fit told me anyway. I'd call it a damn liar but then I'd just have that thumb pointing back at me saying I was the only liar in the room.
I think what I'm gonna do is really watch my portions this week & then next week I'm gonna go a little further with it. I'm gonna break out my fat loss code book. It seemed to really help me with my food choices last time. I don't know why I didn't just stick with it. All of the family was feeling better. The foods are amazing ... the portions are plentiful ... my skin was looking radiant. Now if that's not enough to make me get back on track then I don't know what is.
Hope you have a great week ... I know I'm gonna be putting my best foot forward as of now. I may not reach my goal before the new year gets here but I sure can have a great start to the end of the year goals that I want for 2009.