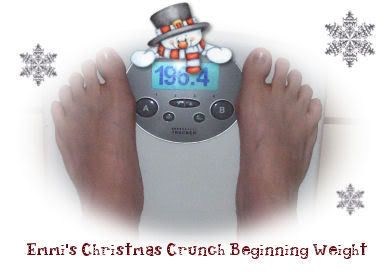 Another challenge begins & of course I end up starting it higher then I would like. TOM is giving me fits & the colonix is keeping me in the bathroom far longer then I would like. It seems like the longer I stay on the product the more I'm in the bathroom & the less I want to eat. So if I'm not eating much ... why oh why isn't my weight coming down? I don't know!!!
The scale was laughing at me this morning because of the gain but that's ok ... I gave him the one figer salute & see ya on the flip side next week. He didn't look to scared ... he should have been though.
This months motivation to lose the weight is Christmas & the desire to want to ring in the new year smaller then I entered the last year. Not to mention my mother may actually show up this year. I invited her ... haven't seen her in 6 years & maybe only talked with her 2 times each year. It's safe to say we aren't close ... she's burned a lot of bridges with me but I'm trying my best to lay those aside in the spirit of Christmas. Who knows what it will bring. I think at the last minute she just won't come because she is afraid of all the trouble I could potentially bring her way. I don't intend to cause trouble ... but when it comes to her & all the games she has played, it would be a miricle if I didn't dislike her more than I do now, if that's even possible.
Anyway, my mother has always tried to upstage me in any form or fashion ... my motivation is for once in my life upstage her ... outshine her ... of course my family says I always have just by my good nature but ya know, it sure would be nice to show the beauty on the ouside instead of always on the inside.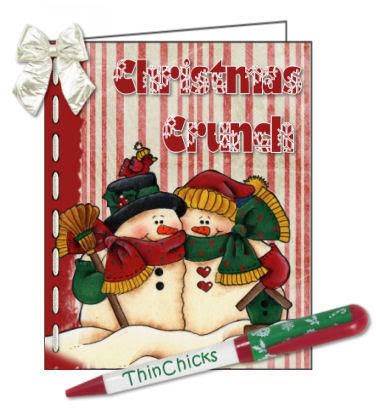 Christmas Crunch

Theres still time to join in on the challenge ....

The challenge runs from the 30th of November until the 28th of December. I know ... final weigh in is a few days after Christmas. You do want to lose weight, don't you? Temptation is always around but we're going to prove that you don't have to fear the holidays because as long as you eat smart you can still lose. Portion control & moving your body is still the healthiest way to lose weight.

Rules:
1. You must check in no less than once a week.
2. You must post your weight each Friday. Photo prefered but not required!
3. If you chose to drop out of the challenge you will not be eligible for the prize.
4. After the challenge starts you can join in the challenge but you won't be eligible for a prize.
5. You must be willing to send me your snail mail if you win the challenge so I can send you your prize.


Don't wait to long to decide. The Christmas Crunch starts November 30th. Come on ... what do you have to lose? Just weight!!