This morning after the kids were finished with their school work we were out the door ... headed for our local walking track. We did a walk/jog ... 2.3 miles in 39 minutes. DH really pushed the son to move his caboose, he sure didn't like being pushed so hard but he did an amazing job. His anger had him coming over the finish line before DH. I was so very proud of him.
Food wise I'm on plan as well ... breakfast was a bowl of granola with a 1/2 banana, coffee, & ff yogurt. Lunch was a ham & cheese sandwhich with avacado dip & low fat tortilla chips ... Snack is a nice juicy peach that we picked up at a road side stand. Yum yum. Dinner will be a hamburger filled with spinach & feta cheese. DH is grilling it ... oooh la la.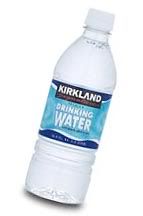 As for my water, it's 3pm & I've already downed 10 cups. Yeah baby ... this momma is back on track & on her way to Onderland. Good news ... the scale reflected a 1.5 pound loss from yesterday. I'm so excited!