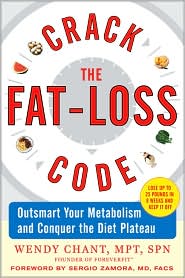 Ok ... so most of you know by now that I love to collect workout videos, well I also love to collect books about fitness & nutrition. Last week I picked up First magazine & found a very intriging plan called "Crack the Fat Loss Code". Well, I have been doing the magazine plan all week long & am down 2.5 pounds in 4 days. I was so impressed with finally seeing the scale go down instead of up that I purchased the book online yesterday. Can't wait til it gets here. Anyhoo ... below is a sample of how you eat to lose. If you try this plan ... please comment back with your success. I'm not asking for comments if you dont; have success cause if you stick to it ... I know you will. I say this cause absolutely nothing else that I have tried has worked. The sample comes from week 4 in the authurs 8 week program. Good luck my friends ...
Baseline Day:

Meal 1 Protein & Starch (Oatmeal mixed with protein powder, or an equivalent alternative ...she lists alternatives in the book or just mix an appropriate starch and protein)
Meal 2 Protein (Cottage cheese or an equivalent alternate that's mostly protein)
Meal 3 Protein, Starch, Vegetable (3-4 oz (for women) tuna, chicken, or turkey, 1/2 cup rice (or other appropriate starch), salad or broccoli) or something similar
Meal 4 Protein and Fat (2-3 oz turkey breast and cheese wrapped in romaine) or something similar...other ideas in the book
Meal 5 Protein, Vegetable, Fat (4-6 oz broiled salmon or halibut, 1 c steamed asparagus, salad with tomato, cucumber, olive oil & vinegar or low calorie/low sugar dressing)
Meal 6 Protein (protein shake - she gives recipes for livening up a protein shake so it's not just the powder & water)

You can modify everything if you only want 4 meals a day.

Sample High Carb Day non-diabetic (2x a week for week 4...other weeks vary; it's an 8 week plan)

Meal 1 Protein, Starch (eggs on a bagel)
Meal 2 Protein Fruit (cottage cheese and an apple) or equiv, you don't have to have cottage cheese if you'd rather have a different protein
Meal 3 Protein, Vegetable, Fat (chicken ceasar salad with croutons if you want them)
Meal 4 Protein, Starch, Sweets or Fruit (6 inch roast beef & swiss sub on whole wheat, small bag of chips, fruit or sweets)
Meal 5 Protein,Starch, Sweets Fruit or Alcohol (1-2 slices pepperoni pizza (meats okay but no extra cheese, and don't pig out)

Sample Carb-down day (precedes a carb-up day)
Meal 1 (mushroom & spinach omelet)
Meal 2 (cottage cheese)
Meal 3 (grilled chicken, broccoli, rice)
Meal 4 (3-4 oz turkey breast, 1-2 slices cheese, wrapped in lettuce with mustard or light mayonnaise)
Meal 5 (4-6 oz broiled salmon, steamed veggies and salad)
Meal 6 (protein shake)

This doesn't do justice to the actual plan, it's really worth reading - but there's a sample if you're wondering what it looks like.