I'mma gonna be lazy again & just copy & paste from Ass Chapin'
First things first ... I love my new doctor!!! =D It really helped my spirits when in walked this petite lady who looked fit, confident, all smiles ... she was wearing red scrubs, white lab coat. She had long brown curly 80's hair. Right away I felt comfortable with her. She told me her name, apologized for being late (she wasn't in my book). I'm used to sitting in the exam room for so long that I get bored and start reading all the posters. I didn't even get to finish one poster. Anyway, she had a sheet of paper with my info ... my vitals were all normal & from what the nurse said in the very healthy range. My weight was 200.3 but I know for a fact from my scale at home that my jeans weigh 2 pounds ... I also had my shoes on which could be another pound or so. Okay so she asks me what I'm feeling at that moment & I told her "to be honest I feel amazing right now but I'm here because my family & friends wanted to drag me in here ... kicking & screaming if necessary ... to see why I was having a hard beating heart for the past few days. I told her about my 2 workouts this morning & how I felt fine before, during & after, explained how I felt in the past few days. I of course told her how I left the ER cause they didn't seem worried about it. She frowned over that one. I wanted to get it off my chest so I asked if my thyroid could be checked & she showed me on her paper where she had written it down. She said just reading through the symptoms made that come to mind. =) Finally, someone who actually pays attention to what I'm saying. It's not like I go to the docs for every little sniffle. he he he I'm stubborn as a Missouri mule & seem to think my body will work out the kinks all on it's own. I hate take medicine ... even aspirin is a chore. She listened to my heart which I knew would be fine ... wasn't beating hard or fast IMO ... she confirmed this. She felt my tummy ... I gave her a scare when I jumped at the touch of my lower abdomin. I told her it had given me problems since the day after my second c-section. For the first time since giving birth I found out that this is normal. I had mentioned this to my last 3 doctors & although they seemed unconcerned about it they never told me it was normal. She told me sometimes the nerves become very sensitive in that area & as long as it isn't painful there was no reason for concern. (it's not painful, just sensitive).

Sad news ... for me anyway ... I have to give up my caffine for a little while. She doesn't know if it's causing problems but she wants to eliminate it to see if it makes a difference. No morning coffee, unless it's decaf (can't go that way), no chocolate (no problem for me), and no night time tea unless it's decaf ... she's gonna visit me in jail if she keeps me off of it for to long. I'll kill my family, he he he! I won't ... but I know I'll probably be in a pisser for the next couple of days as I come off my caffine high.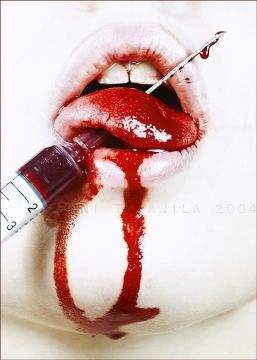 I had to have my blood drawn which was no problem at all. As long as the PA knows what their doing I feel nothing. Today was no different ... I watch them draw the blood. 2 viles gone! I hope they will be able to find something out. My doc said if it's normal I won't hear anything but if it's abnormal she will call immediatly to have me come in for further diagnoses. Not that I want the test to come back abnormal but I would like to know that this isn't all in my head. It really bothers me that I can feel my heart beating hard but all my vitals are fine. Plus ... I'd like to know why I can't lose weight ... it's very frustrating. Ok, that's all for me ... gotta go fill some tags. Have a great day.