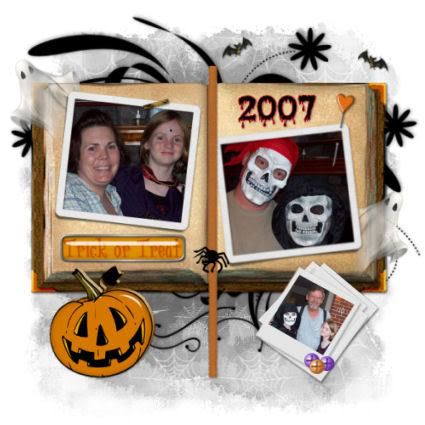 Yes ... I'm a day late! Things have been crazy around here ...
Halloween was yesterday & I was having the best day. The kids went to the computer class, I stayed home for a kick ars kickboxing session ... picked up the kids & stopped for McDonalds ... I had a grilled chicken salad. Anyway ... the day was going very well. The kids put on their costumes ... we head out to get some loot ... DS starts complaining that he's to hot behind his mask ... then it was the mask is scrunching my nose. DH decides he doesn't need his mask so he gives it over to DS. A few minutes into out journey we realize that we'll probably have better luck on post. DS starts crying that he can't get in the truck with his chest plate on so we tell him to take it off & hold it in his lap ... this is where the night turns really wrong. He gets in & about a minutes latter DD says "oh you are so screwed!" DH slams on the brakes & starts yelling ... wants to know what's going on. Turns out DS had spilled his fake blood all over the back seat. WE'RE LEASING!!! How on God's green earth do you remove red food coloring? So everyone is now in a pisser cause DH was yelling, the kids were crying because of the yelling ... I was upset cause that's money out of our pockets & earlier in the night we saw the blood container was leaking & I said why don't you just leave the chest piece home so you don't have to worry about it ... needless to say my idea was shot down because DS & DH said it's part of the costume. After the blood spill ... he got rid of the chest plate. His costume was still really cool & their buckets got filled to the brim. I'm so thankful I only bought small buckets.
Well, that's all for me today. Hope your trick or treatin night was wonderful.
Oh ... I had 2 pieces of candy. One was a charms blow pop & the other was a fun size m&m's.