I went to bed around 9 last night cause I was so tired ... knew I had an early morning. Ha, going to bed early didn't help me at all. I kept waking up all throughout the night & then this morning at 5:30 I pulled on my clothes to head to Curves. I totally sucked through the whole damned workout. My heart rate never even reached the 50% ... I feel like I wasted an hour of sleep. I came home & headed for bed ... couldn't sleep then either.
I feel like a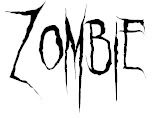 I don't know what's wrong with me.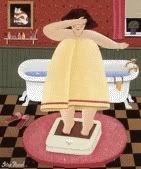 The scale was not my friend this morning ... I'm up yet again. 195.8 Friday, 199.8 this morning before my workout & 2 oz lost after my workout. Totally sucks. When I go back to the dietician in March if I have gained again then I am so done with her. I'll schedule another appointment with my doctor & say look ... something isn't right, why am I not losing but gaining?
I keep reading all these articles in different magazines that say 1 out of 4 women have a small thyroid problem & most doctors aren't reading the signs or their numbers are so borderline that the doc. think everything is fone. Uggg, I'm so frustrated cause in my mind I'm doing everything I should be with no weight loss to show for it. I do feel thinner ... my clothes feel somewhat loser, my emotions (until this morning) haven't been all over the place, I've flet at piece with being me but now ... I keep thinking I'm at ris for all these diseases & I can't seem to keep the weight from packing on. What to do?
Ok, off to drink some coffee in hopes of waking up. I'll have to put in anotherworkout since this mornings was so crappy. I lost my workout buddy for a good week cause she's going to see her grandbabies ... not really that much of a big deal though cause I have been thinking of dropping out of curves anyway. It's a 15 min drive there ... I'm leaving my kids at home sleeping (totaly creeps me out), I can only workout for 30 minutes so I feel like most days I'm not getting enough, I can't go more than once a day & it's $30 a month. I can workout here for free ... I have a weight bench, free weights, boke, treadmill & videos & I can go as long as I want & more than once a day. Oh well ... I'm just babbling on now ... have house work to get on then off to do a workout. I'm thinking my step video by Susan Powter, that'll wear my little ars out!